With some extra time to kill between flights on the West Coast of Canada, one usually thinks of spending a leisurely day in Vancouver, British Columbia – taking in the stunning city views from the top of Grouse Mountain, shopping on Robson Street, or strolling around the seawall in Stanley Park.  But who really wants to do that in the middle of the cold, dark and incredibly rainy West Coast winter?
We decided to do something a bit different and headed into Richmond. Richmond is a small city of about 200,000 people, just south of Vancouver. Vancouver International Airport is located here, making it a short taxi or Canada Line Skytrain ride into the city center.
According to Tourism Richmond, 60% of the population is of Asian descent, with over 375 Asian restaurants cooking here. You you what that means, this layover is all about the food! What better way to spend a layover, than to chow down on the best Asian food outside of . . . well, Asia.
Go With The "Flo"
Just a short walk from our hotel in Central Richmond, we found Flo Tea Room at 7771 Westminster Hwy. This was a good thing because we were tired, hungry and just wanted something quick and easy. Flo is a casual, Hong Kong style cafe with Cantonese, Western and some Malaysian dishes on the menu. The Malaysian style food was looking good so we ordered the Satay Beef Rice Noodles and the Chicken Curry with Steamed Rice.
The beef dish consisted of thinly sliced pieces of marinated beef, peppers, pineapple and satay sauce over rice noodles fried in a hot wok. That charred wok flavor seared onto the noodle with the strong satay sauce was a good combo – very tasty. The Malaysian style curry wasn't too spicy so you could really taste the rich flavors in the curry.
Both dishes included a hot drink and the tab before tax & tip was around $15. That's what I like about these cafes; it's fast, it's cheap and the food is pretty good for "fast food". Then, it was back to the hotel for a quick nap and continue eating our way through Richmond before our next flight.
Dining Tip: Expect basic service in some casual or "Cafe" style Asian restaurants in Richmond. For example: the server may pile your chop sticks, forks, etc. at the end of the table, instead of doing individual place settings. There's no intent to be rude, that's just cafe style service – typical of these quick service places.
Singaporean & Thai at Tropika
Tropika, located at 5300 No. 3 Road in Lansdowne Mall, serves fine Malaysian and Thai food. To start off our meal, we ordered the Roti Canai and the beef  & chicken Satay skewers with Peanut Sauce for dipping; a can't miss bet for appetizers.
The main courses for this meal were Singapore Laksa and Pad Thai noodles – a couple favorites of ours. I talked about them in some previous Singapore and Thailand posts. The Laksa had a nice spicy coconut broth and was loaded with chicken, prawns, fried tofu, cucumber, a boiled egg and fish cake. The Pad Thai Noodle had chicken, prawns, tofu, tomato, sprouts and peanuts in a tamarind sauce.
Overall, they did the dishes reasonably well, considering we'd been spoiled with the authentic dishes in their home countries. We concluded the meal with a light dessert of Deep Fried Bananas with Vanilla Ice Cream.

Dim Sum in Richmond

What trip to Richmond would be complete without Dim Sum? Fisherman's Terrace Restaurant, located in Aberdeen Center at 3581 – 4151 Hazelbridge Way, is well known around these parts for having some of the best Dim Sum outside of Hong Kong. I totally agree with that. In fact, it ranks as some of the best Dim Sum we've ever had the pleasure of consuming.
First up was the BBQ Pork Rice Roll. This is a sheet of thick rice noodle rolled up and filled with BBQ pork and topped with a lightly sweetened soy sauce. I'm already addicted to Hong Kong BBQ; which is everywhere in Richmond by the way. Nevermind, I'm getting distracted.
The second dish was Shrimp & Eggplant with Black Bean Sauce. Oh yeah, black bean sauce is yummy on almost anything. Put in on fried eggplant that's topped with a huge ball of sweet shrimp; you've got a winner!
Next up was the Shrimp Bean Curd Roll. This is similar to the Rice Roll except you have shrimp and pea tips wrapped and pan fried in a sheet of bean curd. I can't forget the dipping sauce which I believe was a dark vinegar based sauce that really added some fantastic flavor to it.
Our fourth dish was Bean Curd with Pea Tips in Broth; a vegetarian dish. It was very fresh and delicious. Of course we had to have Egg Tarts for dessert. Egg custard in an light, flaky tart? Yes, please. All these great dishes and a pot of strong Jasmine tea for just over $30 before tax & tip.
Dining Tip: Reservations are recommended at Fisherman's Terrace and be prepared to wait for a table, especially on weekends.
Vietnamese Pho
Thai Son Restaurant, located at 2215 – 4653 Garden City Road, is kind of hidden off the main shopping and food streets in Richmond, but it was still easy to find with some locals guiding us.  The Beef Pho is the most popular item on the menu, judging by the volume of bowls coming out of the kitchen. Everyone at the table of six next to us ordered it because they make such good soup broth.
Of course, we had to be different and went for the Seafood Pho and the Lemongrass Chicken. The seafood pho was loaded with shrimp, squid, fish balls, and crab . . . imitation crab – that would be an expensive bowl of soup with real crab. Also, it came with a side of fresh bean sprouts, cilantro, basil and a wedge of lime. It made for one delicious, colorful bowl of soup.
The lemongrass chicken was a generous portion of marinated chicken, fried egg and rice with a side of soup and that fantastic dipping sauce. It's made with fish sauce, rice vinegar, chili, garlic and pickled carrots. Fish sauce in certain parts of Southeast Asia is like ketchup in the West; they use it on everything. You can dip your chicken in it, or if you're like me, just pour it all over the chicken and rice and let the flavor soak in. Before tax and tip – about $15.
Dining Tip: Some casual Asian restaurants in Richmond only take cash, so make sure you have a few Canadian dollars in your pocket before you eat.
Afternoon Snack
Just down the block from Aberdeen Center is Parker Place, another Chinese mall, with lots of food. We found this food counter called Lai Taste serving up some rather large sandwiches, you'll see it right next to Yummy Yummy – such fun names.
We ordered the Fish Fillet Sandwich topped with lettuce, cucumber, fresh cilantro and a tasty, sweet cream sauce. Look at this thing, it's a large baguette and it still can't hold the crunchy, fried fish fillet!  We washed down our sandwich with some Hong Kong Milk Tea, which was included with the sandwich for only $3.95. By the way, this fish filet sandwich makes the the Filet O Fish look like a sad little fish burger.
Specialty Sushi Rolls
For dinner we headed over to Alexandra Road, also known as "Food Street". There are dozens of seafood restaurants, noodle houses, cafes and hot pot restaurants lining this street. The selection was overwhelming. We didn't want anything too heavy because we had an evening flight, why not do some sushi rolls Matsuyama Japanese Restaurant at 110 – 8500 Alexandra Road?
The specialty rolls caught our eye so we went for the Matsuyama Roll; filled with tempura prawn, cucumber, avocado, tuna, and tobiko. The other was Bob's Roll; with tuna, salmon, tobiko, scallops and grilled salmon skins on top. These rather large, more than one bite rolls were completed with a side of pickled ginger and wasabe.
For our second dish, we ordered the Teriyaki Chicken Box. This box had a salad with that tasty Japanese dressing, vegetable tempura, california rolls, tuna & salmon sashimi, and the crispy chicken with sweet teriyaki sauce on rice. The box also included a bowl of miso soup and a complimentary pot of green tea. All this for just under $30 before taxes and tips.
After yet another great meal, sadly, it was now time to leave Richmond and head back to the airport. In a way, the timing was pretty good  – we were absolutely stuffed, we couldn't eat another bite!
The next time you find yourself in Vancouver, try something a little different. Spend some time in Richmond and experience the vibrant Asian food scene. You'll find delicious food, from casual to high-end dining, at a great value. In my opinion, Richmond is a well kept food secret that needs to shared.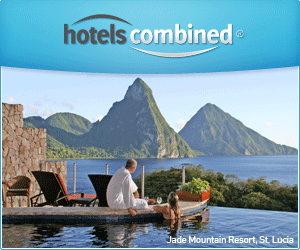 Richmond Travel Resources:
Find Vancouver Flights
Find Richmond Hotels
Tourism Richmond